Northbridge Senior High School
Class Of 1962
In Memory
Russell Daniels (Russell Daniels)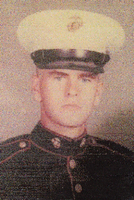 DOUGLAS – Russell G. "Russ" Daniels, 73, died Thursday, July 27, at his home. His wife of 10 years, Susan A. (Borgman), died in 1986.

He leaves 4 children, Patricia L. Kosiba and her husband Keith of Douglas, Pauli L. Jones and her husband David of Ferndale, WA, Amanda L. Huffacker and her husband Wayne of Buckley, WA, and Todd R. Daniels and his wife Nicole of Seabeck, WA; 10 grandchildren; a great-grandson; a brother, Terry A. Daniels and his wife Brenda of Mendon; a brother-in-law, Charles Ebert of Rutland; nephews and nieces. His sister Elaine Hebert died in 2016.

He was born in Holden and raised in Upton, the oldest child of Henry and Winnie (Boyer) Daniels. He lived in Sultan, WA and Everett, WA before returning to Upton. He had lived in Miami Beach for the last 10 years. He attended Nipmuck Regional High School in Mendon and then graduated from Northbridge High School in 1962, where he played on the softball and basketball varsity teams.

He was a sergeant in the U.S. Marine Corps during the Vietnam War.

Mr. Daniels held a variety of jobs in his career. He first worked as a meter reader for the Public Utility District of Everett,WA . He managed Friedlander Jewelry Store and then Goldberg Jewelry Store, both in Silverdale, WA. He worked for Hills Food Service and was a salesman for Montachusett Food Service in Gardner for 5 years, retiring in 1995.

He enjoyed fishing, going to the beach and skin diving.

No services are planned. There are no calling hours. Donations in his name may be made to the Wounded Warrior Project, 4899 Belfort Road, Suite 300, Jacksonville, FL 32256. Arrangements are under the direction of Sitkowski & Malboeuf Funeral Home, 340 School St., Webster.