Northbridge Senior High School
Class Of 1962
In Memory
Diane McDonough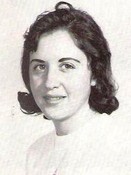 This is such a nice picture of Diane because it captures her sweet soul.
I remember Diane as the "social chairman" of a group of us that met at her house often in the late 50's to listen to 45s or WORC on the radio. We would also meet at the Whitin gym for rollerskating or dances, the Prospect for movies, or New Pond for swimming. Dianne's mother would drive us over to dances at the church across from Wood's drug store in Upton. It was the last of our innocence and toward the end of a prosperous period for the town and Whitin Machine Works.
I may be mixing memories together but some of the group was Diane, Maureen Pontes, "Flossy" Colby, Sue Kidd, Jack, Ritchie, Ollie, Doug, and myself. If you remember this time different, want to disclaim it, or even better expand on it, please jump in.
The group fell apart as we got older and "going steady" became fashionable as older guys who could drive stole the girls away. Diane died in a tragic auto accident.