Northbridge Senior High School
Class Of 1962
In Memory
Ernest Lariviere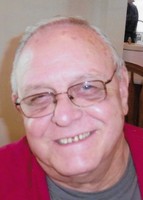 PORT ORANGE, FL ... Ernest Lariviere 73, died at home, August 5, with his wife by his side. He is survived by his wife, Joyce (Darlage) Lariviere; a son, Eric Lariviere, and his wife, Jennifer, of Thompson, CT; three stepchildren, Tracie Curtis, of Seymour, IN, Matthew Sturgeon, and Mark Sturgeon, of Orlando, FL; a grandson, Jack Lariviere; two granddaughters, Ashley Schlee, and Elizabeth Sturgeon; two great grandchildren; and a sister, Claire Gauthier, of Ocala, FL. He was predeceased by his brothers, Phillip and Raymond Lariviere.
Mr. Lariviere was born, April 20, 1944, a son of Rosaireo and Marion (Lavallee) Larriviere. He was a 1962 graduate of Northbridge High School, and he served in the Army National Guard from 1964 to 1970.
He was retired from Commonwealth Gas, and Walt Disney World.
On June 24, Ernie was honored with a celebration of his life at his community clubhouse, where he reminisced and enjoyed the company of many of his family and friends.
Ernie's urn will be interred with his parents, in Saint Patrick's Cemetery, Whitinsville, on April 20, 2018. Memorial donations are requested to: Kindred Hospice, 1717 Clyde Morris Blvd., Suite 130, Daytona, FL., 32117.